At Ruach Kitchens, we recognise that your kitchen is more than just a functional space; it's the heart of your home where the magic of cooking and meaningful gatherings take place. We believe that every aspect of your kitchen should contribute to your daily enjoyment. From the latest appliances and versatile taps to clever space utilisation, we strive to make every detail in your kitchen work seamlessly for you. We understand that the layout and storage of your kitchen play a vital role in your daily life. We have developed a host of innovative storage options to inspire you on your upcoming kitchen project; let us take you through them in this article…
Hidden Pantries
Hidden pantries are your trusted companion in kitchen storage. These cabinets or cupboards appear as part of the kitchen cabinetry but can be pulled out or opened to reveal a spacious pantry. Hidden pantries are perfect for storing dry goods while maintaining a sleek and clutter-free kitchen. You can tailor your pantry to accommodate your essentials and cleverly conceal them with sliding doors, pocket doors or whichever aesthetic you feel complements your design best. They reduce clutter on the worktop and seamlessly blend in with your cabinetry. If you are looking for a convenient way to store food and appliances, a hidden pantry is your answer.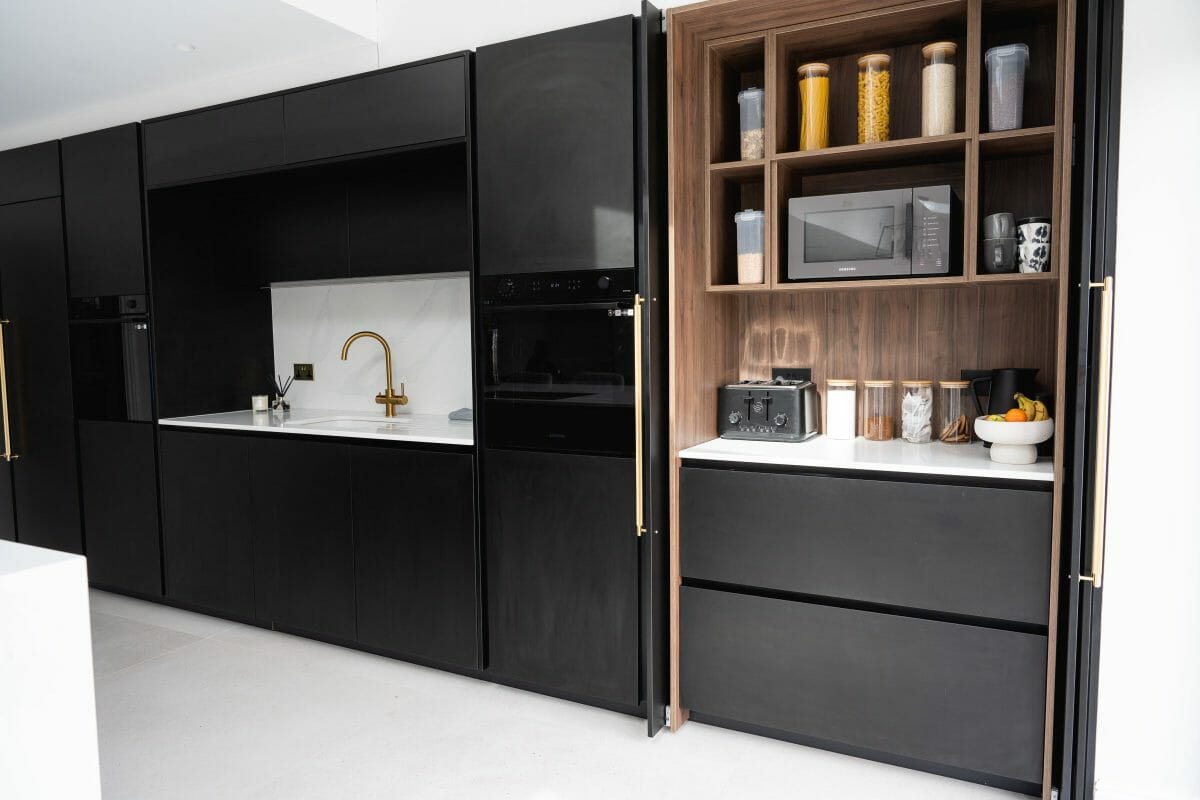 Deep Sliding Drawers
Deep sliding drawers are an ingenious storage solution for pots, pans, and large kitchen items. Unlike traditional cabinets with shelves, deep drawers allow you to access your cookware without bending down or rummaging through stacks of items. They provide easy visibility and quick access to your kitchen essentials. Deep sliding drawers can be custom-made to your preferences at Ruach Kitchens, so it's worthwhile reflecting on how you use your kitchen, what you need and where you need it from within your layout. You might want to explore a peg board system, which entails having perforations at the bottom of your drawer and inserting pegs into the designated spots to secure your items in place. This can make your kitchen more organised and simplify daily kitchen tasks.
Carousel Shelving
Carousel shelving is a classic storage solution that maximises every nook and cranny of your corner cabinet space. These rotating shelves allow you to easily access items in the back of the cabinet. Whether storing condiments, small appliances, or pots and pans, carousel shelving ensures that no cabinet space goes to waste.
Open Shelving
Open shelving has gained popularity in recent kitchen designs due to its aesthetic appeal and practicality. It is an excellent way to display your favourite kitchenware while keeping it within arm's reach. Open shelves can be installed above worktops or islands or between cabinetry, providing easy access to everyday items like plates, glasses, and spices. This simple yet impactful design feature is the epitome of convenience, allowing you to store items quickly or keep important belongings visible and easy to access. The only drawback with open shelving is maintenance, as it can be prone to gather dust. Our designers at Ruach Kitchens will showcase the options to you, demonstrating how this useful storage feature can be embedded into your design choice.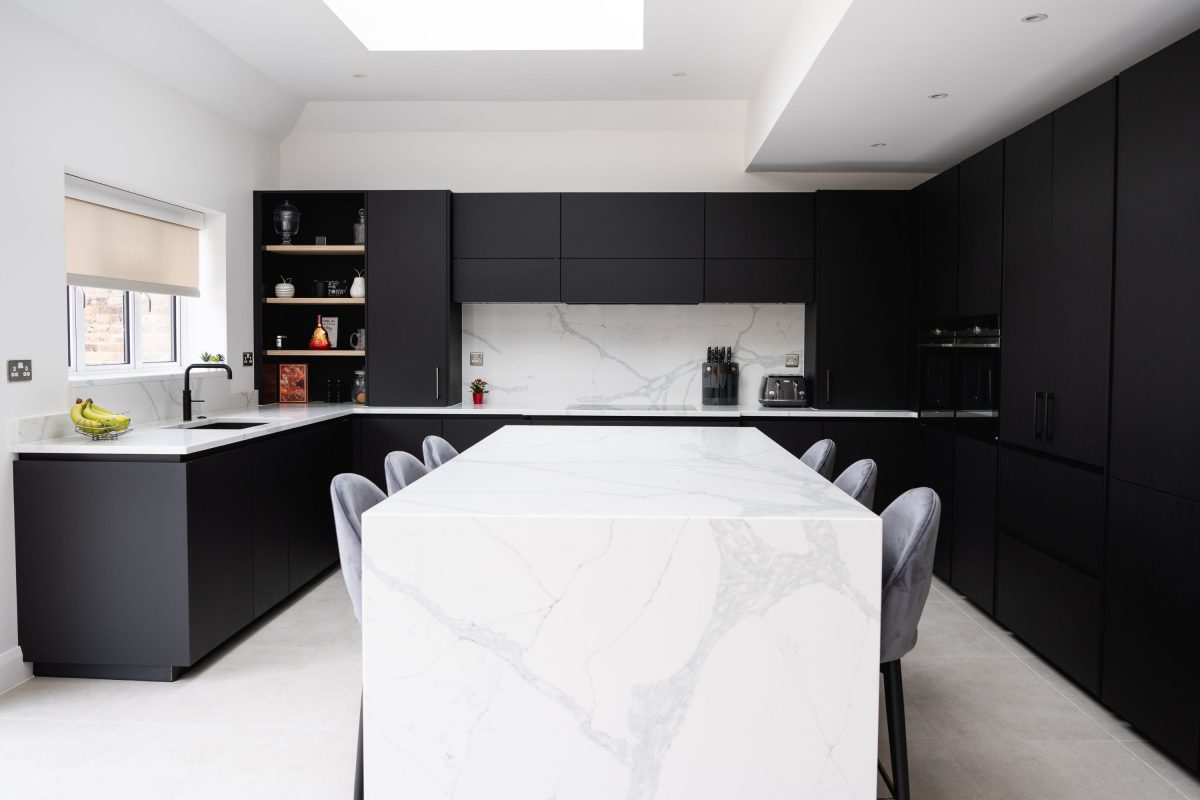 Larders
Larders are traditionally used to house perishable items such as eggs and onions and offer a cool space to store produce. This standalone storage is the kitchen's version of a traditional wardrobe and can effortlessly integrate with your interior. It offers an abundance of storage for groceries, small appliances, and kitchen essentials, freeing up space on your worktops. Larders often feature adjustable shelves and drawers, allowing you to customise the storage according to your needs. If you have space in your kitchen area, a larder may be another storage option to consider.
Drawer Inserts
Drawer inserts are the unsung heroes of kitchen organisation. These custom inserts fit perfectly within your kitchen drawers, providing compartments for cutlery, utensils, and other small items. Drawer inserts keep your drawers tidy and make it easy to find what you need when cooking. This versatile tool goes beyond just being a cutlery drawer. You can incorporate it into larger drawers to accommodate various items. With this adaptable design feature, you have the flexibility to customise your drawers to suit your specific needs.
Bench Seating Storage
If your kitchen has a dining area or island with seating, consider incorporating storage into the seating itself. Bench seating with built-in storage can be a great way to keep table linens, small appliances, or even cookbooks neatly tucked away, saving space in your kitchen.
Pull Out Shelving And Space Towers
This sleek design element offers an excellent method to optimise space in a smaller kitchen. Positioned adjacent to your oven or stovetop, it provides convenient access to your spices and condiments. Furthermore, you can customise the number of shelves to suit your specific kitchen needs. Like pull-out larders, space towers offer an efficient way to store your items. However, they go a step further by providing full extensions, ensuring clear visibility and effortless access to your groceries from all three sides – left, right, and the front.
Your Appliances
In conclusion, an organised space creates an organised life, and the key to an orderly and efficient kitchen lies in innovative storage solutions. From hidden pantries to deep sliding drawers and everything in between, these clever ideas can transform your kitchen experience. When planning your dream kitchen, don't underestimate the impact of ingenious storage on functionality and aesthetics. With the right storage solutions in place, your kitchen can become a space where cooking and entertaining is a breeze. At Ruach Kitchens, we guide you through all the available options and provide a wide range of solutions tailored to your kitchen's organisation and spatial requirements. If you would like to know more, you can contact our team by calling 01959 457008 or emailing [email protected].