When redesigning your kitchen there are lots of big decisions to make, and just as important as selecting practical features like appliances and storage is choosing your perfect colour scheme. Colour plays a huge role in communicating your individual style and personality and choosing the right colour scheme is essential if your new kitchen is going to truly stand the test of time. At Ruach Kitchens, we understand that this can all feel like a lot of pressure, and that's why we take our time to support each of our clients, making sure they are completely confident with their beautiful final design before signing off their project. Below are just a few of the stunning kitchens we've recently created for our Kent clients. With each kitchen featuring a gorgeous unique colour scheme, this blog should help you to find some great inspiration for your upcoming project.
Cool & Contemporary Black Kitchen
Sophisticated, stylish and surprisingly subtle, black kitchens are incredibly popular this year. When you think of a black kitchen, it's easy to imagine a dark and somewhat overpowering interior. However, with a luxe matt finish, plenty of bright natural light and an ample flush of white walls and work surfaces, this stunning black kitchen brings a warm and enticing focal point to our client's home. While a contemporary gold chandelier introduces a glamorous touch, a light oak breakfast bar and matching display shelves add a soft inviting quality. With its chic yet refined looks, this beautiful black kitchen makes a great family living space.
Classically Elegant Cream Kitchen
At the other end of the spectrum, this elegant traditional cream kitchen captures a calm and inviting ambience. The warm but muted palette creates a fantastic characterful feel whilst retaining a distinctive sense of grace and style. Ranging from warm creams and beiges to cool greys, a neutral colour scheme will imbue any traditional kitchen with elegance and luxury. The classic features in this kitchen design such as the mantle shelf and butler sink, combined with the simplicity of the colour scheme establish an equally stylish and homely atmosphere.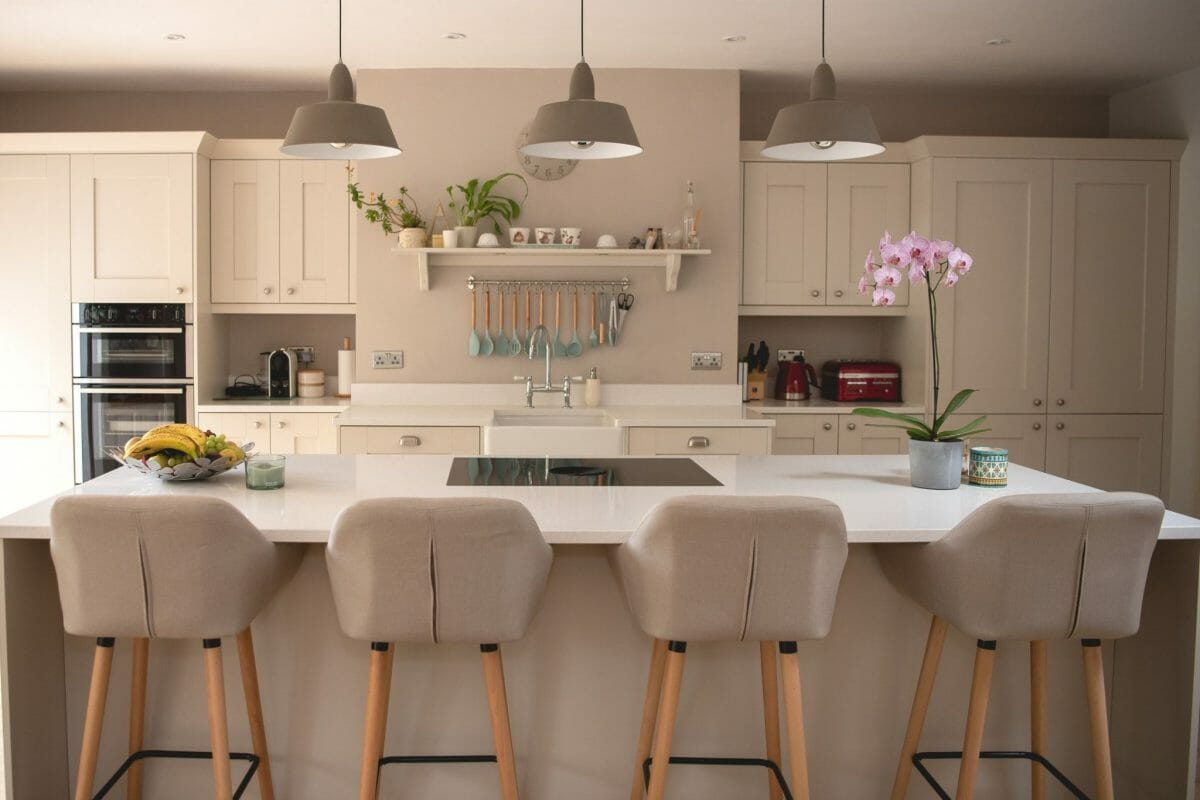 Stylish Modern Neutrals
A calm neutral colour palette works equally well with a modern kitchen interior. This grey handleless kitchen from Mobalpa is beautifully offset by warm tones in the cream and sage green walls. The sleek minimal cabinets contrast with the rustic wood floor and charming AGA range, achieving a perfectly effortless and understated style. Whereas in a traditional kitchen a neutral colour scheme feels luxurious and a little more reserved, in a contemporary space the soft colours bring a much more relaxed and homely feel. If you're worried that a modern kitchen could look a bit stark or overly stylised, this kitchen shows that certainly doesn't have to be the case.
Quirky Navy-Blue Shaker Kitchen
Having reigned supreme for many years now, dark blue kitchens remain incredibly desirable, and with their impressive versatility and stunning appearance, it's not hard to see why. The richness and depth of colour offered by a dark blue hue present the potential to create a totally luxurious and sophisticated interior or something much more charming and characterful. With a playful orange Smeg fridge and vibrant industrial-style bar stools, this bespoke slab in-frame kitchen creates a quirky and energetic backdrop to our client's family home.
Charming Two-Tone Blue Cottage Kitchen
If you love the dramatic style and striking looks created by a bold colour choice but are concerned that a statement colour scheme might overwhelm your space, then a two-tone design is the perfect middle ground. Positioning a darker hue below the eye-line will bring the depth and character you're looking for, while white or neutral overhead cupboards will keep your kitchen feeling bright and spacious. This is handy if you have a compact space or require extra storage. The navy-blue and white design featured in this stunning cottage kitchen brings a sophisticated and cosy feel in keeping with the age of the property.
A Modern Kitchen With A Pop Of Colour
Another opportunity to experiment with colour is to add a vibrant accent tone to your design. This minimal modern white kitchen is crucial in terms of bringing a clean and clutter-free look to this compact space, however, the vibrant pink glass splashback delivers a much-needed burst of vibrancy and personality. The deep rose pink was developed especially to match our client's beautiful stained-glass windows. Splashbacks, feature walls, or kitchen islands are all wonderful places to consider adding a bold stroke of colour.
The best way to envisage how each potential colour scheme could look in your space is to experience our kitchens first-hand at our Westerham showroom. Comparing a range of kitchen colours in person will help you to get a better impression of what might suit your home. During your showroom visit our expert team will be on hand to help if you need, but you are more than welcome to browse our collection at your own pace. If you'd like to speak to our friendly designers about your project, then please call us on 01959 561333 or email [email protected].