If you're considering updating your kitchen, you might have noticed that two countries seem to dominate the market — Britain and Germany. Many retailers make a point of specialising in one or the other. This apparent divide may, understandably, leave you wondering what the difference is and which you should choose? Here at Ruach, we have over 30 years of experience working with both British and German brands. We've put together this guide to try and untangle the differences and help you decide which product is best for you.
Types Of British & German Kitchen
Not so long ago, it was easy to separate the two types of kitchens. British kitchens were largely inspired by traditional styles, whereas German kitchens were much more modern and minimal in appearance. However, as German handleless kitchens grew in popularity, many British manufacturers released their own contemporary ranges. Since style is now a less influential factor, it makes sense to break the two types down into more specific categories.
Handcrafted British In-Frame Kitchens
From Chippendale to Sheraton, Britain boasts a long history of exceptional craftsmanship. Combine this with our adulation of the iconic English country aesthetic, and you can see why the handcrafted in-frame kitchen remains one of the most sought-after styles. The intricate detailing and skilled carpentry at the heart of an in-frame kitchen couldn't be further removed from the precision-engineered German approach. Click here to view our in-frame range.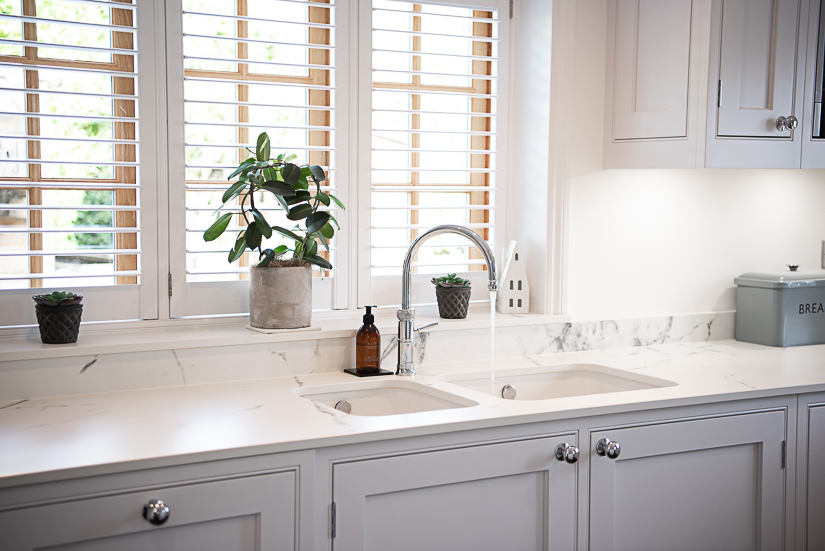 Independently Manufactured British Kitchens
Many smaller family-run British kitchen manufacturers produce a range of modern and traditional designs to a very high standard. They often use similar manufacturing techniques and components to German brands, making it hard to differentiate between the two. At Ruach, we work with trusted family-run supplier, Ashley Ann.
Mass Produced British Kitchens
Unlike German retailers, British brands, such as B&Q and Howdens, tend to place greater emphasis on price than quality. While many of their manufacturing processes will be similar, they must find a solution to keep costs down. Thus, they generally offer fewer high-performance practical features and little scope for customisation.
Mass Produced German Kitchens
From their cars to their kitchens, Germany has long been at the forefront of design innovation. Their years of research and ingenuity have resulted in the development of a number of world-leading production techniques. These techniques form the basis of both their high-end and mass-produced kitchens alike. Regardless of the desired price point, sacrificing quality is never an option. In order to reduce costs, German manufacturers aim to maximise efficiency and rely on clever design solutions.
Luxury German Kitchens
Most high-end German kitchens are manufactured to order using state-of-the-art techniques and components. They can be fully customised to maximise your space and suit your practical requirements. The top German brands have dedicated years to devising ingenious solutions to enhance modern living. From elegant folding doors to beautiful lighting systems, you'll find a variety of innovative features to elevate your interior. The majority of luxury German brands still specialise in their archetypal true handleless kitchen.
Which is better quality?
Here at Ruach Kitchens, every single one of our carefully selected products represents outstanding quality. Our British manufacturer, Ashley Ann, builds every kitchen to order using the finest materials and cutting-edge techniques. They use the same innovative systems and components from leading suppliers, Blum and Kessebohmer, as the top German brands. While here at Ruach, even our most affordable collections offer a fundamental level of performance, durability and quality, this isn't true of all retailers. You may find that British kitchens vary in quality slightly more at the lower end of the market than German kitchens.
Which style do you prefer?
Though British and German kitchens were once defined by their contrasting classic and contemporary aesthetics, both manufacturers now offer a beautiful and varied range of designs. The best way to find a style you love is to get in there and start exploring. Featuring a range of on-trend earthy tones and vintage detailing, a British-made shaker kitchen might capture your imagination. Alternatively, a sleek Scandi-inspired German shaker with modern handles could be just what you're looking for. The only thing German manufacturers don't offer is the quintessentially British handmade in-frame kitchen.
Which is more expensive?
As you've probably gathered, German and British kitchens both vary massively in terms of price. Due to the time, skill and luxury materials involved, handmade in-frame kitchens command a high price point. Likewise, the extraordinary innovation and attention to detail at the heart of a German handleless kitchen comes at a cost. You'll also find plenty of British and German manufacturers offering a range of affordable designs.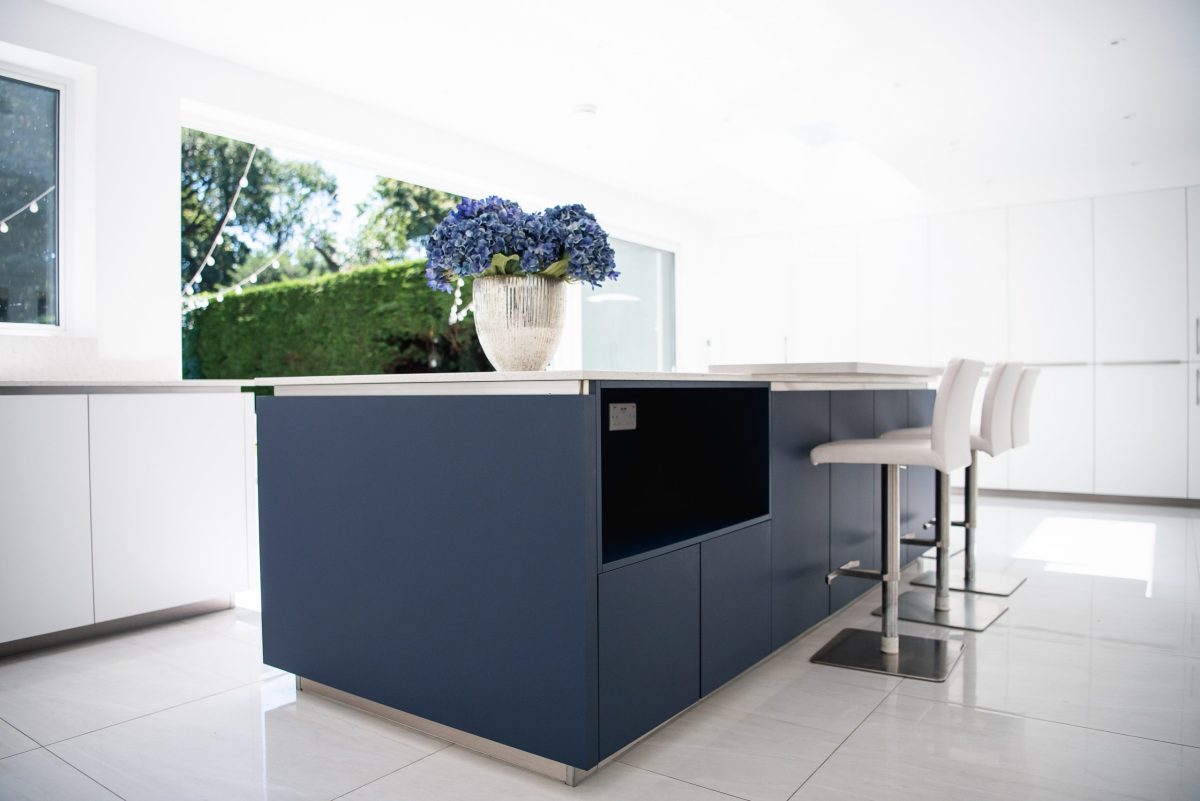 Ultimately, when it comes to choosing either a British or German kitchen, you'll need to take a range of factors into consideration. Furthermore, your individual brief will inevitably impact your thoughts on quality, style and price. We recommend discussing your options with a kitchen design expert. If you would like to talk to a friendly and knowledgeable member of our team, please don't hesitate to call us on 01959 561333 or email [email protected].