Ever fancy a cup of tea but don't want to wait for the kettle to boil? Or get home from work needing to prepare dinner in a hurry? Or perhaps you've found yourself with a stubborn pan that needs cleaning, and only boiling water will do? The Quooker tap delivers 100-degree boiling water instantly, so you'll never have to stand around waiting for the kettle to boil again. This revolutionary appliance doesn't just offer a host of fantastic time-saving benefits. It can also reduce waste, save energy, maximise space, and improve safety.
It almost sounds too good to be true! However, you don't have to take our word for it. As one of Kent's leading Quooker retailers, you can try the Quooker tap out for yourself at our Westerham showroom. Please click here for more information or give us a call on 01959 561333.
How Quooker Started
Rotterdam-born Henri Peteri was working for Unilever back in the early 1970s. During a presentation about the time-saving benefits of packet soup, it struck him that waiting five minutes for the kettle to boil to prepare a soup that takes five seconds to make was 'stupid'. And so, he went home and set about building a prototype of the first boiling-water tap in the world. Once people had used what would become the Quooker, they realised they simply couldn't live without it.
Quooker Today
Quooker has come a long way since releasing that first prototype. Their stylish range of boiling water taps integrates seamlessly within the modern home. And with their latest innovation, the Quooker CUBE, you can now enjoy instant chilled, sparkling, and filtered water too. Today, Quooker produces 300,000 systems a year. Owned and run by the late Henri Peteri's sons Niels and Walter, they have thousands of dealers and factories across the world, in places like the Netherlands, Belgium, Germany, Norway and here in the UK. Continuing in the spirit of their father, the brothers are committed to pioneering innovation and maintaining the highest standards of quality.
How Do Quooker Taps Work?
Quooker taps draw water from a tank below your worktop that's connected to your water mains. The insulated tank acts like a vacuum flask, allowing the Quooker system to maintain a temperature of 108 Celsius with very little energy. As the water reaches the tap, the temperature drops to 100 degrees and the tank refills. Quooker is one of the only boiling-water taps on the market that delivers the true 100-degree boiling water needed for tasks such as brewing tea and sterilising bottles.
Which Quooker Tap Is Right For You?
Quooker has developed a number of different systems and tap styles to accommodate a range of requirements and budgets. Here's our guide…
Tanks
PRO3– The standard tank provides 3 litres of boiling water, which is suitable for most households.
PRO7– The larger PRO7 provides 7 litres of boiling water, ideal for large families or semi-professional cooks.
COMBI– The Quooker COMBI tank provides boiling and hot water (40-60 Celsius). It acts like a mini boiler, speeding up the time it takes to get hot water and preventing water from being wasted while your boiler warms up. If your boiler is more than 6 meters from your tap, the COMBI tank may be worth considering.
CUBE– The CUBE can be installed alongside your water tank. It includes a charcoal filter and a CO2 tank, allowing you to enjoy chilled, filtered, and sparkling water. You can also buy a cold water filter separately.
Taps
Nordic– Quooker's Nordic taps are designed to sit alongside your standard mixer tap. They come in a range of styles, including square, round, classic, original, stainless steel, and polished chrome. They can also be paired with Quooker's matching hot and cold mixer tap.
Fusion– Fusion is Quooker's all-in-one hot, cold, and boiling water tap. It is available in both modern and classic styles as well as a choice of five finishes, including chic matt black and gold.
Flex– The Flex features a pull-out hose for greater reach when preparing food and washing up. It also provides hot, cold, and boiling water and comes in stainless steel, polished chrome, and matt black finishes.
All of Quooker's taps can be combined with your choice of tank and the Quooker CUBE.
Quooker's Energy Efficiency
You might think that keeping a full tank of boiling water on tap wouldn't be very efficient. But it is! Thanks to Quooker's cleverly insulated vacuum system, heat cannot escape. And so, very little energy (just 10 watts) is required to keep the water at a constant 110 degrees. In fact, if you boil your kettle a few times a day, the Quooker can actually use less energy than a standard electric kettle.
Are Quooker Taps Safe?
One of the most frequently asked questions about Quooker taps is 'are they safe?'. The answer is yes. They're very safe. A recent study by the Dutch Burns Foundation concluded that they reduce the risk of burns when compared to a normal kettle. Unlike a kettle or pan, you can't knock them over, spilling large volumes of boiling water. Quooker taps have been designed with safety in mind. They include a range of safety features such as an aerated flow, extra insulation around the tap, a red warning light, and a child-safe mechanism.
Quooker Is Safe For Children Too
A safety system ensures that a Quooker tap will never automatically dispense boiling water. Users have to press the handle twice and then twist it. Only then will boiling water flow from the tap. The risk of accidentally turning the boiling-water tap on is very small.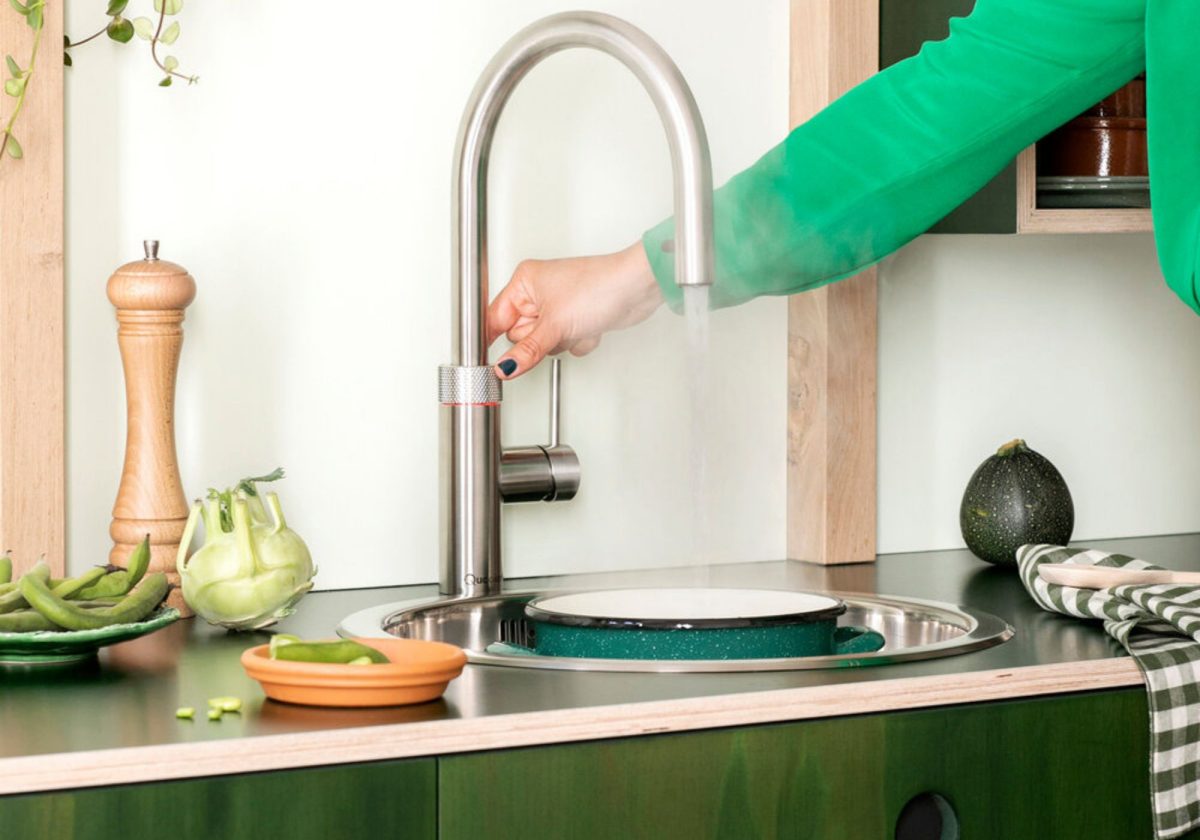 Minimise Clutter & Maximise Worktop Space
An electric kettle can take up valuable kitchen real estate and leave your worktops looking a little cluttered. A Quooker will free up space on your surfaces, helping you achieve a neat and streamlined interior. The tank only takes up some of the room beneath your sink, allowing you to still use the cupboard for storage.
The Sustainable Choice
With their energy and water-saving benefits, Quookers make a sustainable addition to the kitchen. When you use a Quooker tap, you only heat the water you use. And due to Quooker's clever design, this requires very little energy. With a kettle, you tend to boil more than you need and sometimes end up re-boiling it when you don't use it right away. Plus, with the addition of the CUBE, you will never need to buy bottled sparkling water again, saving money and reducing plastic waste. And for even greater peace of mind, Quooker gets all its energy from renewable sources.
How Much Do Quooker Taps Cost?
As of January 2023, the entry-level Nordic single tap with the PRO3 tank costs £950. Quooker's popular all-in-one tap, the Fusion, starts at £1150. And the Quooker CUBE also costs £1150. These prices vary depending on your choice of tank, finish, and accessories. While Quooker taps may seem expensive compared to standard mixer taps, they can transform how you use your kitchen. On standby, they only cost around 3p a day to run, and their maintenance costs are lower than many other boiling-water tap brands, as the HiTAC filter should only need replacing once every five years. To discuss your options with our expert team, please call us on 01959 561333 or click here to get in touch.
For more information about Quooker taps, please click here. Or, to try one out for yourself, please feel free to pop into our Westerham showroom!