With the latest IPCC report on climate change published just last month and environmental headlines making the news on an almost daily basis, it's hard to get away from the issue of sustainability. Many of us feel like we could be doing more to help, but it's not always easy to know where to start, especially when we're sidetracked by TV characters building homes from plastic bottles or deciding to pack up their day jobs and become self-sufficient. However, taking steps to create a more sustainable kitchen really doesn't have to be as radical as you might think. Here at Ruach, we're passionate about every aspect of kitchen design, and we're keen to take our environmental responsibilities seriously. We've put together this insightful blog to help you make more sustainable choices regarding your new kitchen.
Invest In An Expertly Planned Design
From recycling your packaging to choosing the most efficient electric induction hob, there are plenty of small steps we can take to reduce our environmental impact. However, one of the things that makes the most difference when it comes to planning a sustainable kitchen is to design a space that stands the test of time. A well-designed, good quality kitchen should last over 20-25 years. Replacing your kitchen after just a few years wastes huge amounts of valuable resources, making it one of the most environmentally detrimental resorts.
Kitchens are the heart of the home, and from helping the kids with their homework to cooking special celebratory meals, your space must accommodate a wide variety of uses. Creating a highly functional and efficient design that complements your practical requirements and enhances your lifestyle is the key to enjoying your kitchen for years to come. However, with so many demands to consider, finding the perfect solution can be challenging, and that's where enlisting the help of a professional kitchen designer comes in.
An experienced kitchen designer will take the time to understand your requirements before figuring out the best way to maximise the available space. They will ensure your layout promotes a great workflow while offering all the storage, appliances and design features you need to enjoy your kitchen whether cooking, hosting or relaxing. Investing in a fantastic professional design is the first step to creating a truly long-lasting kitchen.
Choose Quality Over Quantity
Just like establishing a great design solution, investing in durable, high-quality products is the best way to ensure your kitchen stands the test of time. But when it comes to finding an excellent quality interior, how do you know where to start? As well as having a genuine appreciation of craftsmanship and attention to detail, most independent kitchen specialists rely on upholding an impeccable reputation, meaning their products should live up to the highest standards. Your retailer should also offer the expert service needed to design and install your kitchen. Experiencing your chosen retailer's products first-hand, looking at the thickness of the cabinetry and the level of finish is a failsafe way to guarantee the longevity of your new kitchen. You can plan a visit to our Kent kitchen showroom by clicking here.
Create A Timeless & Personal Space
Ensuring your kitchen stands the test of time isn't just about practicality. Bear in mind when choosing your kitchen style that interior design fashions can quickly come and go. While looking to the latest trends can be a great way to find inspiration, creating a unique design that you really love is a great way to ensure your kitchen will never age. If you're stuck on what to do, you can click here to read our blog on the most timeless kitchen design ideas. A well-built, expertly installed kitchen that combines quality, practicality and timeless style is sure to last considerably longer than a hastily purchased off the shelf design and will certainly prove the more sustainable choice in the long run.
Look For Sustainable Kitchen Companies
While investing in a kitchen that won't need replacing after a few years is vital to reducing waste and conserving precious resources, you may also want to give some thought to where your kitchen comes from. Many leading manufacturers have taken the initiative to invest in making their kitchens and their manufacturing process more sustainable, and at Ruach Kitchens, we're proud to say that all our manufacturers uphold the highest environmental standards.
Using Renewable Energy
The kitchen companies we use, including Ashley Ann and Mobalpa, and their suppliers Egger and Blum, are all firmly committed to reducing waste and taking steps to benefit the environment through the use of renewable energy and recycling. Both Ashley Ann and Egger rely on biomass technology to provide the heat and energy required to run their factory facilities. The biomass is sourced from offcuts and waste materials produced by the original manufacturing process, thereby creating a closed material cycle.
Sustainable Materials
Most kitchens are crafted from wood or composite wood materials. We recommend checking the timber used in your kitchen is either recycled or responsibly sourced. At Ruach Kitchens, all our products are PEFC or FSC certified. Our Ashley Ann kitchens are produced using 59% recycled and by-product materials. Mobalpa is voluntarily NF Ameublement certified to ensure they meet the highest standards.
Eco-Friendly Paints
Kitchen paints and finishes can produce VOCs, which contribute to atmospheric pollution and can potentially cause respiratory problems. Choosing a kitchen with a low or no VOC finish is beneficial for your health as well as the health of the environment. The Farrow & Ball paints used in our hand-painted kitchens are low VOC and also score A+ for the French Indoor Air Quality Decree. Little Greene, Graphenstone, Edward Bulmer, Lick and Coat paints are also great choices if you're looking for a low VOC finish.
Include Efficient Appliances
While the kitchen is so much more than a place to cook, there's no denying that choosing a great range of kitchen appliances is essential to the daily functioning of your space. When choosing your appliances, you can check their energy label to assess their efficiency. The larger your appliance, the more energy it will use, so if you're looking for an environmentally friendly choice that's better for your pocket, you should only purchase the size of appliance you really need. Since they're switched on 24/7, the size and energy rating of your fridge-freezer can make a significant difference to your energy consumption. Dedicating a bit of extra thought to your choice of appliances can save you money as well as benefiting the environment.
Quooker Boiling Water Tap
One of our favourite stylish, energy-saving kitchen features is the Quooker tap. Producing boiling, chilled, filtered and even sparkling water on demand, the Quooker saves water and energy all while looking wonderfully sleek and sophisticated. Find out more about including a Quooker tap in your sustainable kitchen by clicking here to read our dedicated blog.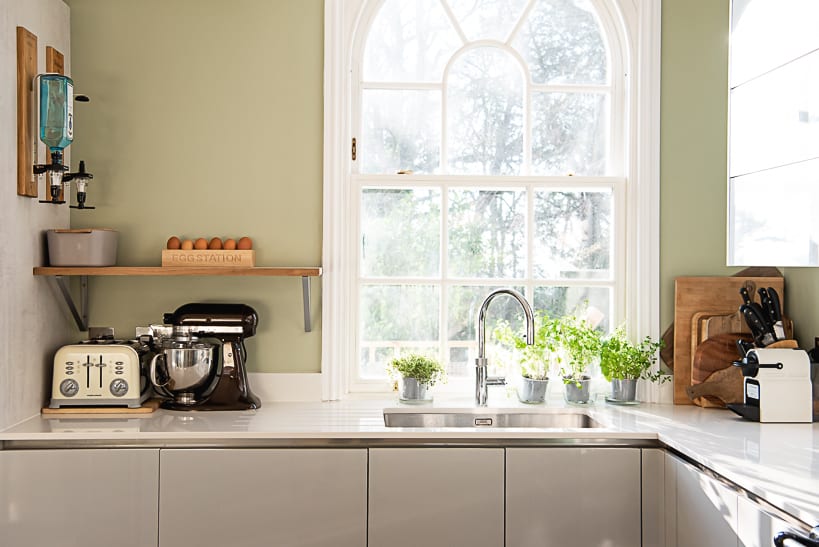 Achieving a more sustainable kitchen doesn't mean sacrificing your creature comforts or ending up with an uninspiring design. In fact, creating a kitchen with great longevity demands quite the opposite. At Ruach Kitchens, we're incredibly proud of the eco-credentials of our products and would be happy to discuss working with you to create a more sustainable kitchen design. You can call our friendly expert team on 01959 561333 or email [email protected].